Kitchens have always been the heart of the home, and the island bench is frequently the soul of the kitchen. Its centrality and multifunctionality make it a unique selling point for any property. This is why making this space look its best when preparing to sell is imperative.
At Decor 2 Sell, we've spent years helping homeowners prepare their kitchens for the market. In this extensive guide, we'll go over everything you need to know.
Importance of the Kitchen Island Bench
Often, what draws buyers to a property is the kitchen. This room isn't just a place for cooking. It's a living place. Whether for family meals, morning coffee, kids doing homework, or entertaining guests, the kitchen island bench holds a multifunctional role.
Read More: Home Staging Checklist – Simple Steps for a Perfect Home
That's why styling this versatile piece is essential when planning to sell. Let's look at some tips to style your kitchen island bench. 
In-Depth Tips for Styling Your Kitchen Island Bench
The kitchen is the heart of every home, where families gather, memories are made, and meals are shared. The kitchen island bench serves as a functional workspace. Also, it can be the centerpiece of your kitchen's design. You can elevate its look with thoughtful styling, making it the room's focal point. Here are some key tips to help you make the most of your kitchen island bench:
Tip 1: Mind the Color Palette
Colors set the mood. Lighter shades make rooms seem more spacious. In contrast, darker hues can add depth and sophistication. Use colors that match or contrast with your bar stools. It will give your island bench a harmonious yet eye-catching look.
Tip 2: The Role of Dark Tones
Dark colors bring their charm and sophistication. A dark island bench can draw eyes and be a focal point in a kitchen with lighter hues. At Decor 2 Sell, we can help you choose the perfect shade that works with your kitchen's overall theme.
Tip 3: The Power of Centrepiece Lighting
Your island bench deserves to be in the spotlight. Pendant lights can make this possible. Choose shades that fit with the existing decor. And always hang them in odd numbers for balance and visual appeal.
Tip 4: Material Matters
Different materials bring different textures and aesthetics into your kitchen. A wooden top adds warmth. In comparison, a marble one adds a luxury touch. Combining materials, like metal fixtures, with a wooden surface can give a unique look.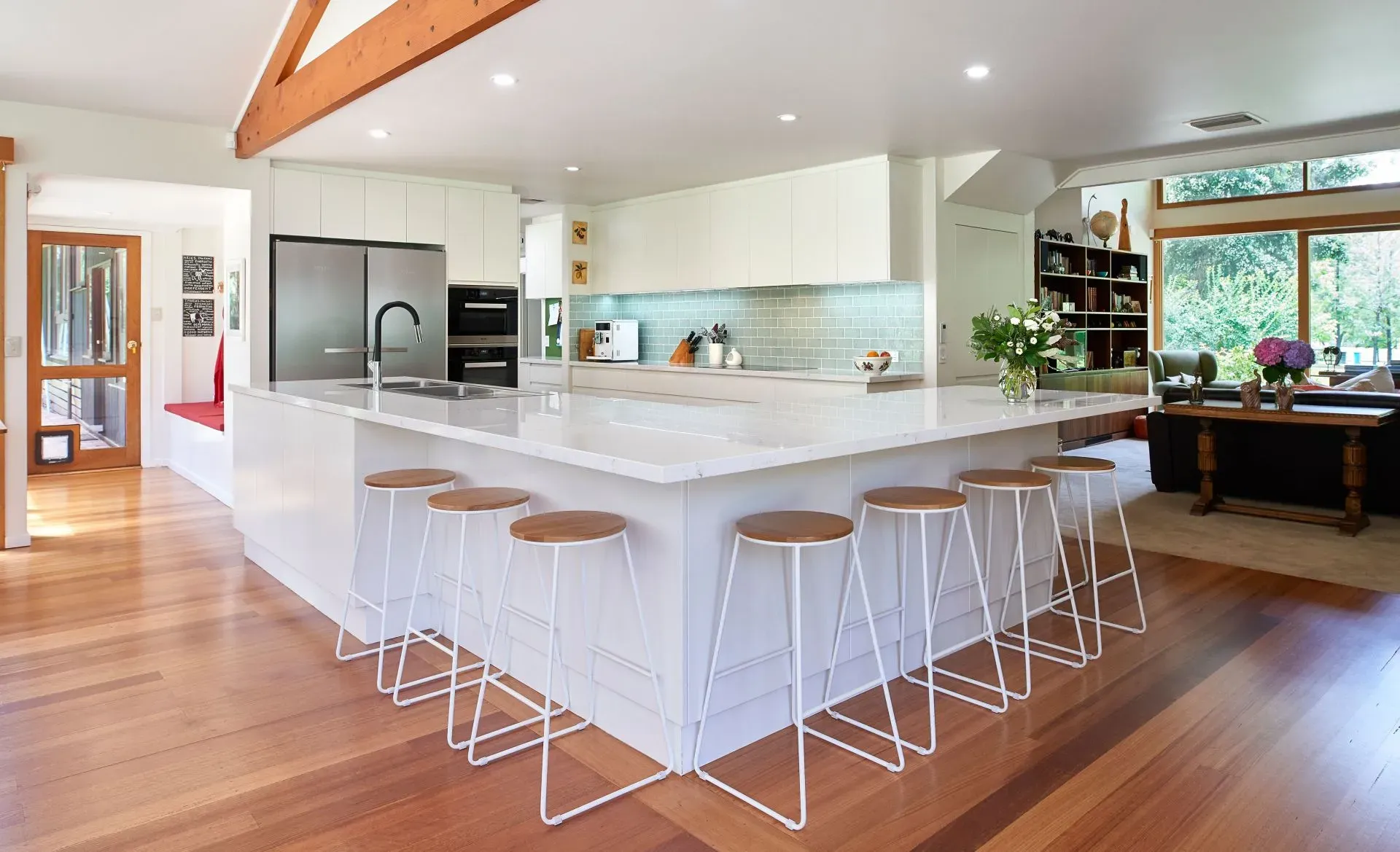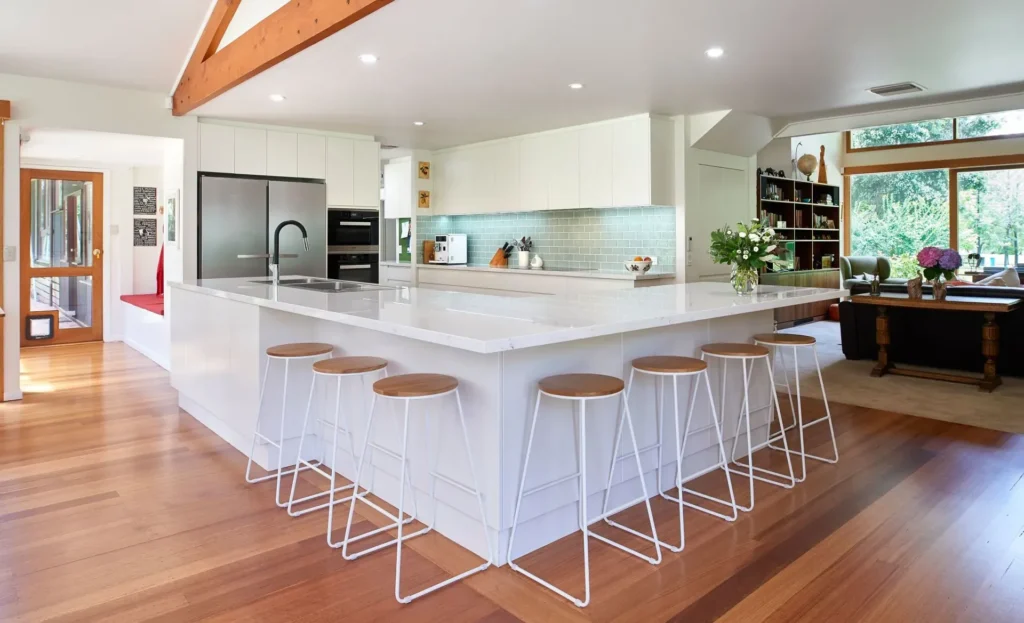 Tip 5: Creative Paneling Options
Wallpapers or customised panels can bring a whole new look to your island. Whether you opt for bold patterns or textured finishes, these small changes can have a big impact.
Tip 6: Functional Storage Options
Your island bench can be both stylish and functional. Drawers, cabinets, or open shelves under the countertop can store kitchen essentials. It will make life easier for the new homeowner.
Tip 7: Small Decorative Add-ons
Small accents like a beautiful vase, a bowl of fruits, or a decorative tray can bring life to your island bench. These little details show that you've put thought into the styling.
Tip 8: Stool Selection
The right stools can make or break the look of your island bench. They should be comfortable and integrate with the bench and the decor. 
Tip 9: Incorporate Tech-Friendly Features
Modern life demands modern solutions. USB ports or electrical outlets can turn your island bench into a multifunctional hub.  Thus making them suitable for cooking, working, or charging devices.
Tip 10: Personal Touch with Plants
Adding greenery can instantly breathe life into your island bench. Consider small potted plants or a decorative herb garden to create a vibrant and homely feel.
Tip 11: Opt for Minimalism
Sometimes, less is more. A clutter-free island bench with only essential decor can make a space feel larger and cleaner.
Tip 12: Incorporate Textiles
A chic runner or a textured mat can enhance the bench's appearance. It will add color and comfort without taking up much space.
Tip 13: Seasonal Decor
Reflecting on the current season can make the kitchen feel timely and refreshing. Think about a bowl of pumpkins in the fall or fresh lemons in the summer.
Tip 14: Add Art Pieces
Though unconventional, a small art piece or decorative plate can elevate the island's look. Hence giving it a sophisticated touch.
Tip 15: Consult the Professionals
With years of experience in the business, Decor 2 Sell is here to help. We offer custom styling services to ensure your island bench. And your property stands out in a crowded market.
You can also extend the island bench functionality. Let's see how.
Extending the Island Bench Functionality
If your kitchen doesn't have an island bench, you can still create a focal point with movable pieces. Consider adding a cart on wheels or a butcher block station that can serve similar purposes. And style these pieces following similar guidelines.
FAQs
Summing Up!
Your kitchen island bench is more than a piece of furniture. It's a statement about the lifestyle that a new homeowner can expect. You can make your island bench a stunning centerpiece with careful planning, attention to detail, and creativity. So it will attract potential buyers.
At Decor 2 Sell, we are committed to making your property as appealing as possible. For more information or to schedule a consultation, don't hesitate to contact us.
This comprehensive guide ensures that your kitchen island bench will catch the eyes and hearts. Thus making your property a hot pick in the real estate market. So don't hesitate to call Decor 2 Sell today, and let's turn your property into someone's dream home.